We want you to enjoy your coffee, tea, milk and hot chocolate at the perfect temperature at all times.
It's a common occurrence, especially in the winter, to sit down at a desk with a cup or coffee or tea only to have it cool down too fast, so the conceptual Phonograph Retro Warming Coaster has been designed as a stylish solution to this issue.
It offers the technological, modern-day luxury of electric heat while maintaining the charismatic quality of intricately decorated coasters of yesteryear.
The coaster draws design inspiration from a vinyl record turntable that has users position their mug on top before choosing their desired level of heat. This can be set to 104°F (40°C), 131°F (55°C) or 158°F (70°C) to make it perfect for keeping drinks piping hot throughout the day for up to six hours at a time.
With 3 different heat settings and an automatic shutdown timer, this warming coaster is a tune you can definitely dance to.
* For best results, we recommend using a ceramic flat-bottom mug to maximize heat conduction from base to vessel. Do note that our warming coasters are not designed to heat liquids to boiling point. Rather, they are meant to heat-up liquids and help maintain a warm temperature.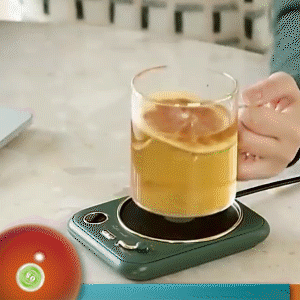 Key Features:
Phonograph Inspired Retro Design
The iconic phonograph is a symbol of a different time gone by, when listening to music on the iPod wasn't a thing yet.
While our Phonograph Warming Coaster can't play any music, it can turn the heat up.
Retro Colors
The Phonograph comes in 5 charming colors; Green, Maroon, Purple, Pink and Navy.
Smooth Body
Unlike the boxy, sharp-cornered wooden bodies of yesteryear's phonographs, we chose a lightweight plastic body with smoothened edges for the Phonograph of today.
After all, music should be smooth!
Pair with any Personal Mug
Like the many genres of music, the surface of this warming coaster allows for mugs of any shape and size for heating.
Hot and Warm
Keen to explore new temperatures? Or simply content to stay at your optimal sipping flavor?
The Phonograph is well able to heat drinks from room temperature or maintain the perfect drinking temperature all day.
Non-Slip Base
The coaster base is fitted with rubberized grips for added stability.
Digital Temperature Display
The warming coaster comes with a digital monitor to display the coaster's current temperature setting for easy adjustment.
3-Heat Settings

The Phonograph comes with 3 heat settings of 40°c, 55°c and 70°c for targeted temperature control.
4 Time Settings
With an automatic 2-8 hour shutdown timer, the Phonograph allows you to set the duration of heating you desire.
Specifications:
Coaster Dimensions (LxWxH, cm): 13 x 12 x 2.5
Weight: About 400g / 0.88lb
Body: ABS Plastic
Coaster Colour: Navy, Pink, Green, Maroon, Purple
Temperature: 40, 55, 65, 75°c
Power requirements: 20w
Power: 220V Plug
What's in the box?
Heating Coaster

Charging Cable


Instruction Manual

Shipping Information
Please expect a tracking number between 1-5 business days. Once your order ships out, delivery times are quoted by the carrier as taking between 7-14 business days. For more information, please visit our Shipping Policy.
100% Moneyback Guarantee
We take pride in providing quality products and carefully inspect products before shipment. In the rare case that the item is faulty, damaged during transit, or if you're not satisfied with your order, please contact us for details on how to get a refund or replacement.
Contact
FOR ANY FURTHER INFORMATION ABOUT SIZES, MODELS AND SHIPPING TIME. DON'T ESITATE TO CONTACT OUR CUSTOMER SERVICE AT hello@iooishop.com.