Illuminate your love with MagicMirror, the perfect romantic gift.
Introducing MagicMirror - Paper Art Mirror Lamp is designed to transform your space into a work of art, providing both practical lighting and a stunning display for your paper art creations.
This unique product combines the elegance of a mirror with the warm glow of a lamp, creating a beautiful and inviting ambiance that's perfect for any romantic occasion. When turned off, it functions as a sleek and stylish mirror, allowing you to check your reflection in pristine clarity. But when turned on, it transforms into a stunning paper art lamp, illuminating any paper art display placed in front of it with a colorful and dynamic glow.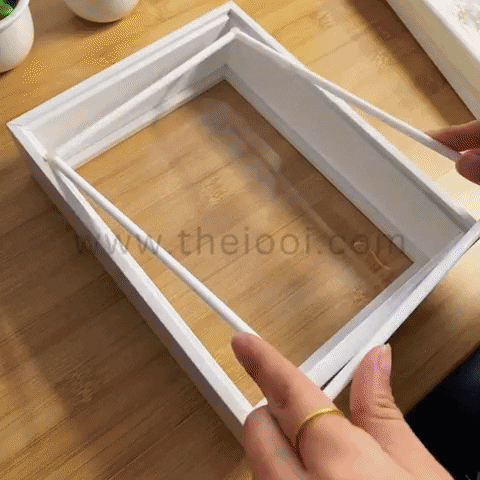 Your Loved One Is Going To Love It
🔮 Romantic and Unique Gift - MagicMirror is the gift that can be appreciated by anyone, regardless of age or gender. Whether you're looking for a gift for a birthday, anniversary, or any special occasion, the paper art lamp is a unique and thoughtful choice that is sure to be treasured for years to come.
🔮 Warm and Cozy - The warm glow of MagicMirror creates a cozy and intimate atmosphere, perfect for romantic evenings or quiet moments together.
🔮 Multifunctional and Stylish Design - With its sleek and modern design, our smart mirror seamlessly integrates into any decor style, adding a touch of sophistication and elegance to any space.
🔮 Exquisite Craftsmanship - The paper art is a 3D sculpture made up of several layers of paper carefully cut into various shapes and then combined together, creating a beautiful and intricate work of art that looks stunning when illuminated.
🔮 High-Quality - MagicMirror is made from high-quality materials and is built to last. Its sturdy frame ensures that it will stand up to regular use and remain a beautiful addition to any room.
🔮 Easy To Use - Our smart mirror is easy to set up and use, with simple controls that allow you to adjust the lighting ease.
Specifications
Materials: Optical Organic Glass, ABS Frame, Laser Paper-Cutting Art, Lead-Free Circuit, Eco-Friendly Backboard
Weight: ≅ 1 lb / 450g
Dimension: 7.87 x 6.3 x 1.97 inches / 

20 x 16 x 5cm

Voltage: 

≤36V

Power Supply: 3 x AA Batteries (not included)
What's In The Box
Paper Art Mirror Lamp x 1
Illuminate your love with MagicMirror today and create a romantic atmosphere that will last a lifetime. Order now and experience the beauty and elegance of this unique product.