Give your feet somewhere dry and comfortable to land!
Step out of the shower without hesitation, knowing that the Diatomite Oil Painting Super Absorbent Floor Mat is there to cushion and dry your feet. Its multi-layered design quickly absorbs water so that you never leave a hazardous trail of water on your bathroom floor.
Along with its quick-absorbent surface, the Diatomite Oil Painting Super Absorbent Floor Mat dries up in an instant so that it's always ready to keep soles dry. Plus, each of them is printed with a stunning floral oil painting that truly adds a pop of color and some new designs to a bathroom, laundry room, bedroom, or foyer.
Why You Need The Super Absorbent Floor Mat?
Water Absorption & Quick drying
Your floor needs a mat that absorbs instantly the water staying clean and dry. Super absorbent means peace for your feet and no more stains for your floor.
Strong Grip
The standard mats move seemingly on their own or if just barely brushed against them, we equipped our mat with a rubber bottom sole for a strong grip on any type of floor (even tiled), and an anti-slip surface to be safe from unpleasant falls.
Incredible Comfort
Your feet can get irritated stepping on wet and dirty mats. We created our Super Absorbent Mat with additional layers and luscious soft Diatomite. The result is a relief for your feet by feeling more comfortable than ever before like you're walking on the clouds.
Unrivalled Quality
You've probably seen cheaper, lower-quality mats. At IOOI, we've decided to prioritize quality and create a durable mat that will be loved for years to come.
Beautiful Home Decoration
Each floor mat features a beautiful oil painting and retro floral pattern that can be perfectly integrated in every interior.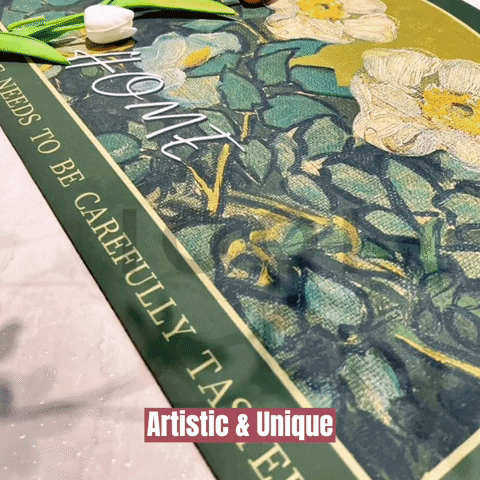 Simple Care
Since the Oil Painting Super Absorbent Floor Mat dries up in an instant, cleaning it is simple and hassle-free. All that you must do is to scrub it with anti-bacterial soap to keep in pristine condition.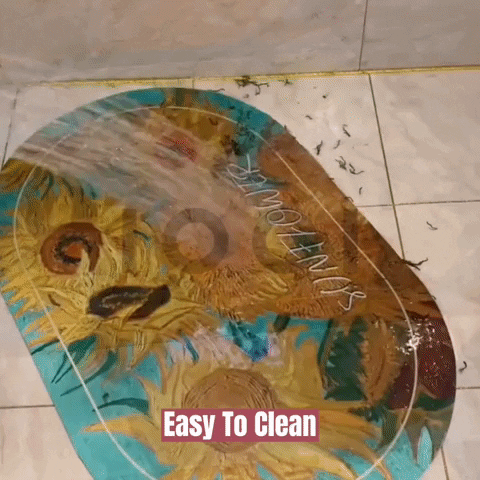 Your Home Deserves The Best
Super absorbent, comfortable and artistic design are the main features of the mat. The ultra-absorbent, comfortable material provides the foundation of an incredible mat that gracefully accommodates your feet while making it impossible for dirt to grow.
From a design viewpoint, Oil Painting Super Absorbent Floor Mat perfectly suits any place of your home, it can make a significant difference in the overall color scheme of your home or coordinate with towels and other home décor or accessories.
Extra layers and fast-drying, machine washable and sponge-clean are features that have been overlooked by our competitors. This is how we differentiate ourselves from the rest, providing a premium product for your home that you will be envious of
USAGE SCENARIOS: 
Suitable for bathroom, sink, kitchen, laundry room, living room, bedroom, entrance, etc.
SPECIFICATIONS:
Materials: Diatomite, PVC, Rubber
Thickness:

¼"/5mm

Size: 

15.7 x 23.6"/40 x 60cm
19.7 x 31.5"/50 x 80cm
23.6 x 35.4"/60 x 90cm
31.5 x 47.2"/80 x 120cm
PACKAGE INCLUDES:
1 x Oil Painting Super Absorbent Floor Mat
FAQs
Q1. Where does the water go?
The water penetrates first and second layer and it is absorbed into the third layer. Here it quickly evaporates from the ends of the mat.
Thanks to its 3-step absorption, there is no accumulation of water on the surface so that the mat will be always clean and dry.
Q2. How can it be cleaned?
It can be simply cleaned with a sponge to remove any stain on it. You can machine wash on cold with a mild detergent. The maximum washing temperature is °30, do not tumble dry and don't use chlorine or bleach so that the color will stay nice and vibrant for years to come no matter how many times it will be washed.
Q3. Is it slip resistant?
Yes, it is non-slip at the top. Also, it features a non-slip rubber bottom which ensures a firm grip on any type of floor.
Q4. How thick is it?
It is about ¼ inch (about 5 mm) thick.
Q5. Is it easy to clean hair off of?
Yes, hair doesn't have a way to stick to the mat, so just a gentle tap or wipe with a sponge will clean any hair from the mat.
Q6. Do they get moldy underneath?
No, it will not get moldy underneath. It's 4-layer design guarantees an ultra-rapid evaporation while the rubber bottom sole isolates the floor keeping it always dry.
HESITATE NO MORE, BUY NOW!
Shipping Information
Please expect a tracking number between 1-5 business days. Once your order ships out, delivery times are quoted by the carrier as taking between 7-14 business days. For more information, please visit our Shipping Policy.
100% Moneyback Guarantee
We take pride in providing quality products and carefully inspect products before shipment. In the rare case that the item is faulty, damaged during transit, or if you're not satisfied with your order, please contact us for details on how to get a refund or replacement.
Contact
FOR ANY FURTHER INFORMATION ABOUT SIZES, MODELS AND SHIPPING TIME. DON'T ESITATE TO CONTACT OUR CUSTOMER SERVICE AT hello@iooistore.com.